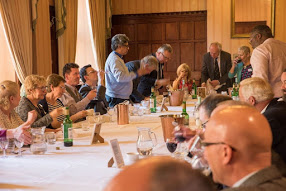 We wish all Old Augustinian's and friends of the OAs a very Happy and Peaceful New Year and would like to thank those OAs who have supported our events and work during this past year…
We have achieved a lot and there are plenty of events and activities to get involved with in the year ahead.
Over the past 12 months we have:
Relaunched our Website
Completed the project to have a new OA War Memorial and official unveiling
Introduced new Financial and Banking Systems
Revamped Membership recruitment and increased our Contact base
Held successful reunions with increased attendance
In the coming year we will see:
Further improvements to the website and Archive material
An annual Remembrance Day event at our War Memorial
Internet Banking facilities and improved financial systems
More Members
Increased attendance at events
25th Anniversary of Closure of St. Augustine's College and formation of the Ursuline Coeducational College (Westgate lunch)
Martin Morton Remembrance Service and lunch
60th Anniversary of Inauguration of Assumption House (Ramsgate Mass and lunch)
And plans for Black Tie Central London event to commemorate 50th Anniversary of leaving Ramsgate to move to Westgate
Full details of all our 2020 events can be found on our Forthcoming Events Page
One BIG request is that if you haven't already done so, please become a Member of the OAs. Make it a New Year's resolution!!
Without Membership support we can't keep going – so please join.
Details are on this link: https://www.oldaugustinians.org.uk/membership-join
We very much look forward to see you in 2020...