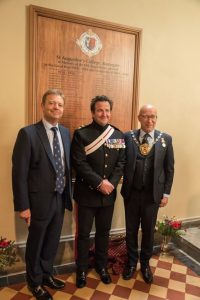 "The unveiling of the new War Memorial honouring former pupils at St. Augustine's College, Ramsgate, lost in the Great War and World War Two has attracted interest from many Old Augustinians who were unable to attend, on the day, as well from local and Catholic media who covered the story"
The Memorial Plaque, unveiled on 28th September by Lt. Col.Paddy Williams MC, Commanding Officer of the Household Cavalry Mounted Regiment (a former student at both St. Augustine's College and the Ursuline College) was the result of the Old Augustinians Committee decision in 2014. While organisations were remembering those of their number who died in the Great War, we had lost our Memorial Plaque. The Second World War Plaque has been in storage and on this anniversary of 80 years since the start of World War Two, it was considered appropriate that the new plaque should honour our War dead from both Wars.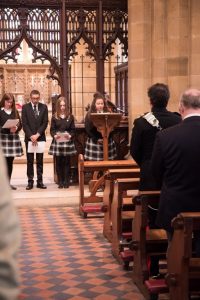 We are still raising money to pay for the new plaque. The committee decided to order the plaque in anticipation of donations. We have not reached our target yet, so as we approach Remembrance Day in a few weeks' time, please remember those Old Augustinians who gave their lives – and make a donation towards the cost of the Plaque. Details on how to make a donation are on the link below.
https://www.oldaugustinians.org.uk/wp-content/uploads/2019/07/OA-Plaque-Donation-Form-v1-July-2019.pdf
"The Memorial Plaque's new home at St. Augustine's Church in Ramsgate is open to visitors daily as the Church also houses the National Pugin Centre and is the shrine to St. Augustine of Canterbury. Please go and see it, if you get the chance – St Augustine's Church is a Magnificent Grade One listed church, so there is much to see"
Andrew Sharp, Vice Chairman. On behalf of the Society of Old Augustinians