Old Augustinian, William H Donnelly (1921 – 1925). Remembered.
By Peter West (1960 – 1967)
On 28 th September 2019 The Society of Old Augustinians rededicated a new memorial plaque to those OAs killed in WWI and WWII. The original WWI stone memorial that hung above the entrance to the school chapel was unfortunately lost when the old school at Ramsgate was demolished. The original WWII wooden plaque that hung in the cricket pavilion survived the move from Ramsgate to Westgate, but upon the schools closure in 1995 was not well looked after and suffered a severe split. You can read about the re-dedication in the news section.
For the rededication service, 6th Form students from the Ursuline College had researched each of those killed in WWII and had prepared a short statement about of each. I was struck by the story surrounding William Donnelly as he was killed in the UAE, an area I knew quite well having lived and worked there and still with family living there. At the rededication service I said to myself that I must pay my respects to his gravesite next time I go to the UAE. My next trip was planned for end March 2020, but with Covid-19 this didn't happen.
Then amazingly in early March 2020, there came a contact message from the OA website from Lesley Botten to me as membership secretary… did I know anything about her great uncle William (Billy) Donnelly. Lesley had only recently discovered the circumstances surround his death in WWII but the family knew nothing of his schooldays. All they had was a small student portrait of Billy Donnelly taken by a studio in Ramsgate and had recently discovered he was at school at St Augustine's.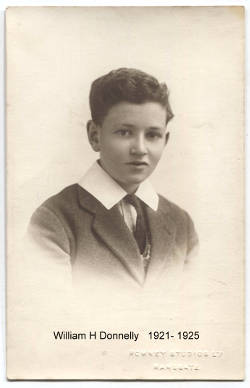 Discovering our website she was able to make contact. From the school magazine and image archive I hold I was able provide dates and images of his schooldays at Ramsgate and that his name appears on the rededicated war memorial now in place at St Augustine's Church, Ramsgate.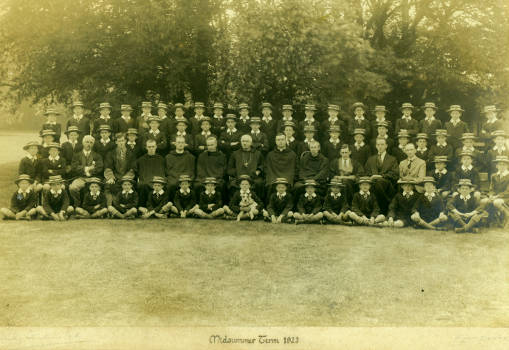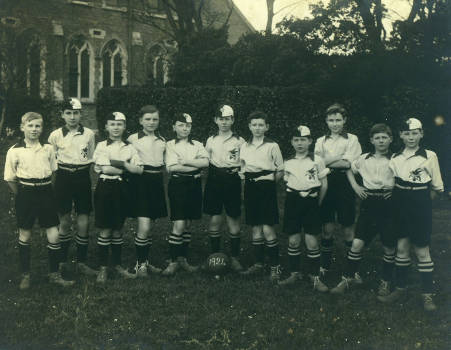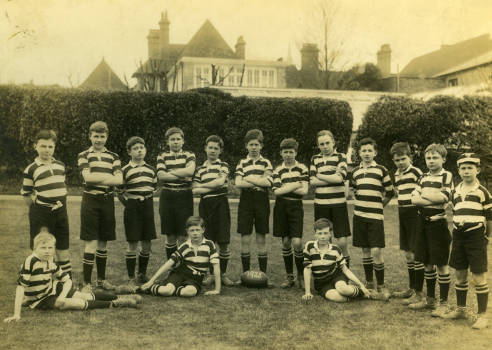 I also told Lesley of my connection to the UAE and that I will visit William Donnelly's memorial next time I'm in the UAE, hopefully in 2021.
William Donnelly came from an Irish family. His family moved to Peru to set up a freight company that still trades today under the family name. William was sent back to the UK to be educated possibly with a view to take over the freight company when his father retired. His two sisters showing no interest in the family company. His time at St Augustine's appears to have been a happy one, taking part in many school plays and for being a keen sportsman. From St Augustine's he went on to Ampleforth.
The Spring 1943 edition of the school magazine under 'OA News' reports…
"Sergeant-Navigator William H Donnelly, R.A.F.!1921-5) was killed during a ferrying flight at Upaih Dnadnah, Eastern Ariabia, on February 14th. He arrived in England from his home in Peru just before the declaration of war and immediately registered for the R.A.F. Called up a few months later he did most of his training in Southern Rhodesia, and then stationed in Enliand until th beginning of this year. We express our profound symphathy to his father in the loss of his only son and salso our thanks for this information."
With information provided by Lesley Botten here follows the amazing story of William Donnelly's death and how the UAE authorities decided rededicate a new memorial to mark the 75th anniversary of his death on 14th February 2018.
14th February 2018. 75 years ago RAF navigator William 'Billy' Donnelly was killed when his plane crash-landed shortly after taking off from RAF Sharjah.
On the night of February 14, 1943, an RAF Vickers Wellington bomber took off from the Royal Air Force base at Sharjah for part of what is modern-day Pakistan.
It flew east across the mountains but over the sea, the pilot experienced problems and decided to return.
Minutes later, the port propeller broke off and the plane crash-landed among date palm groves in Sayh Dhadnah, Fujairah.
Navigator William 'Billy' Donnelly died and was buried at the site. He was just 31.
The British airman's grave was made of stones and aircraft parts.
Three other crew and a passenger survived.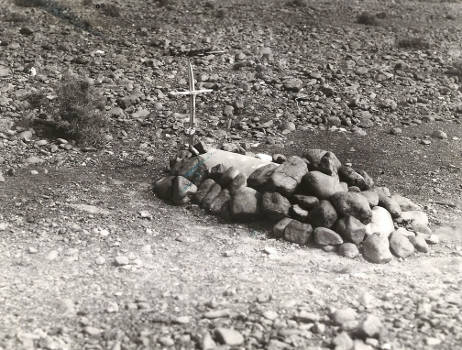 Seventy-five years on, Donnelly's life and tragic death was marked on Wednesday at a memorial close to the site of the crash.
Local villagers who saw the plane come down, airmen and women of the RAF, the UK ambassador the UAE, Philip Parham, attended. Also present was historian Peter Hellyer, whose research brought to light the location of the crash and also helped to locate the grave.
"It's very moving and very heart-warming," Mr Parham told The National on Wednesday.
"It's an illustration that those who make the ultimate sacrifice are never forgotten. Even here where it's relatively remote and not part of a large Commonwealth graveyard, he is still remembered and that's very important and very special.
"I would like to thank His Highness Sheikh Hamad Al Sharqi, the Ruler of Fujairah, for his support for today's event. It's also very special that members of the Fujairah community are here, including the man who remembers the aircraft crash."
During the ceremony, the sun broke through the clouds as prayers were said, the Last Post sounded and wreaths of red poppies were laid.
Watching on was villager Mohamed Alsereidi, an eyewitness, who was just a boy when the plane came down 75 years ago.
He was preparing nets to go fishing when he saw the plane come in low and clearly in difficulty.
"It bounced up and down three times and then crashed in a cloud of dust," he said through a translator.
"We found a local imam who tried to advise on how best to bury him and we tried to find the best location for the grave. The site was also guarded by the local community."
Donnelly was born in 1911 in Peru and was a sergeant with the RAF volunteer reserve. His burial in a shallow wadi so far from home was a sad reality for many who gave their lives during the Second World War.
But an equally important part of the story is how the location of the grave was lost for decades.
Lesley Botten is Donnelly's great niece and has been researching her family tree for decades.
It was originally thought the crash happened in India. But a photograph of the grave came into her possession with RAF Sharjah written on the back.
Along with her mother, June, they contacted RAF archives who found some details of the crash.
Lesley then came across an article written by Mr Hellyer and Laurence Garey who had written about it in Tribulus, the journal of the Emirates Natural History Group and she contacted Mr Hellyer.
He then informed Sheikh Hamad, who requested the grave be found. Local researchers were able to pinpoint the site through local villagers who remembered the crash.
Donnelly's grave and others had been washed away in a flood but a permanent memorial was built in 2010 on the order of the Ruler.
June Botten is now 84 but came to the UAE in 2010 when the memorial was first unveiled.
She said this work has "answered the question I'd been living with for 70 years – what happened to Uncle Billy?"
"We were the guests of His Highness Sheikh Hamad and experienced such welcome hospitality," she said of the original 2010 trip.
"It feels amazing. Totally unexpected," she said of the memorial. "And I feel huge gratitude to the organisers, including Peter [Hellyer].
"They have helped to bring Billy alive in a sense. I remember him as just a charming, gentle sort of person.
"My mother was absolutely devastated when she heard that her brother had died. She never spoke about him after that because it was too painful.
"He was the only son, and unmarried, although we learned later that he had been engaged to be married."
The memorial stone is in the shadow of the Hajar Mountains and is surrounded by date palms.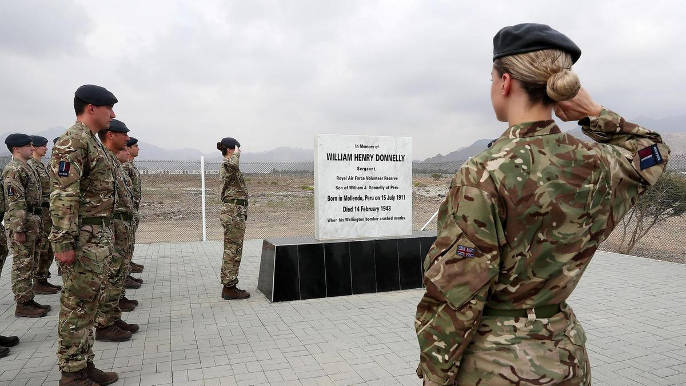 It is close to the Al Aqah area and has been carefully maintained by Fujairah authorities. So far, Donnelly is the only known British and Commonwealth serviceman found to have died on active service in what is now the UAE during the Second World War.
Captain Jim Lowther is the British defence attache in the UAE and said Donnelly's death underlines the breadth of activity that the Second World War encompassed.