William Donnelly Memorial, UAE, 14 Feb 2022
Since The OAs rededicated the memorial to those brave OAs who lost their lives in WWI and WWIII I have become connected to the family of one on that list …
William Donnelly, Sgt Nav. RAF … known to his family as 'Uncle Billy'
Student at St Augustine's 1921 – 1925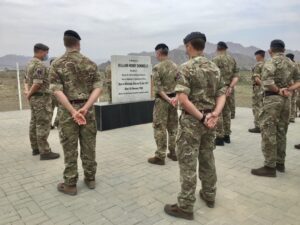 You can read about his story on our page here. My interest was that Billy was killed in what is now the UAE, an area I know well as I have lived and worked there, and with my eldest son still living there with his family. I vowed that on my next visit to the UAE I would visit his memorial to pay my respects on behalf of all OAs. With covid restrictions easing and my grandsons Dubai schools half term last week my wife and I got to Dubai on 10th Feb. We were able to attend the memorial service on 14th Feb, the 79th anniversary of the crash in 1943.
Please find attached a 7 minute video my son took of the service. The link is to a Dropbox file that I will keep open for a couple of weeks. If you want to keep a copy you should download to your own device. The video does have sound, but the volume needs to be turned up to hear the address:-
https://www.dropbox.com/sh/qnor20ill3qnvmm/AACs3DXvQfW_eOoEb4eYp1T_a?dl=0
Also attached is a link to The National newspaper coverage …
https://www.thenationalnews.com/uae/2022/02/15/britain-remembers-raf-man-william-donnelly-from-1943-crash-in-uae/
It was a privilege to be there. Billy is the only British and Commonwealth Serviceman to have been killed in WWII and buried in what is now the UAE.
The gallery of all the photos from this event is in our Galleries section.